Welcome to Christ Church!
Christ Church is a congregation of the Episcopal Diocese of East Tennessee, part of the Episcopal Church in the U.S.A.
We are a warm and open community, and we hope that you will be able to visit us in person.
Our mission is "To know Christ and to make Christ known." We come to know Christ in our worship, study, spiritual formation, and fellowship. We seek to make Christ known by active, Spirit-filled ministry in our church, community, and the world.
Our commitment to Christ is growing and bearing fruit in our lives. You are welcome to come and worship with us, and to see if you would like to join us in our mission.

God Bless You,
The Rev. Kim Hobby, Rector
Recent New
Episcopal News Service
General Convention committee gets a pep talk and a context for doing its work
October 23, 2017
The Episcopal Church's Joint Standing Committee on Program, Budget and Finance, or PB&F, has begun its share of the many months of work that will result in a 2019-21 budget being proposed to the 79th General Convention in July 2018.
PB&F members spent the bulk of their Oct. 21-23 meeting at the Maritime Institute Conference Center getting a crash course on the church's finances, the current shape of the "working draft budget" being crafted by the Executive Council and the challenges both the council and committee face to produce a canonically required balanced budget for convention's consideration.
There is an $8 million deficit in the current working draft, the Rev. Mally Lloyd, a member of council's Joint Standing Committee on Finances for Mission, or FFM, told PB&F. The gap between anticipated revenue and the spending asked for by the churchwide staff and council's joint standing committees stood at just more than $12 million when FFM began its work at council's Oct. 18-21 meeting.
The version of Executive Council's working draft budget that PB&F studied during their meeting is far, far from final.
"It is not the budget we will receive in February and it is not the budget that we will propose in July," Diocese of Maine Bishop Steve Lane, PB&F's vice chair, warned. "There is not a budget until General Convention acts."
Episcopal Church Treasurer and Chief Financial Officer N. Kurt Barnes explains the church's financial operations Oct. 22 to members of the General Convention's Joint Standing Committee on Program, Budget and Finance. Photo: Mary Frances Schjonberg/ Episcopal News Service
Council's Finances for Mission committee crafts a draft budget for the entire council to approve and forward to PB&F, which General Convention charges with crafting a further-refined budget to propose to bishops and deputies. That draft budget hand-off must happen by early February 2018.
Lloyd, who is also a PB&F member, told the committee Oct. 22 that council's goal is to produce a balanced draft budget but, she noted, council is not required to do so. Lloyd said she and FFM chair Tess Judge are confident that they can "get it under control and into balance."
"But there may be some hurt in doing that," she said, adding that "there's so much good ministry going on that whatever's left is going to be really top-notch."
Both Presiding Bishop Michael Curry and House of Deputies President the Rev. Gay Clark Jennings during its opening session the evening of Oct. 21 thanked the committee ahead of time for its willingness to, in Jennings words, "wrestle with a budget that has big dreams and limited resources, and which we are agreeing to trust one another more than perhaps we have in many decades."
Jennings said the committee faces such questions as whether "our modest expectation for increased income [will] be able to fund our vastly increased hope for mission and ministry across the church and far beyond" and what it will cost "in other areas of ministry to follow what we believe God is calling the Episcopal Church to be in today's world."
Curry placed the committee's budget work in an even larger context. The world, he said, is undergoing "profound shifts" religiously, culturally and politically.
"There's a lot at stake and the Episcopal Church in this context matters, it matters profoundly," Curry said.
"I wouldn't be here if I didn't believe that the Episcopal Church has witness, has a role and a message that reflects the Jesus of Nazareth that may well be just right for these times," the presiding bishop said.
He told the committee that "following the way of Jesus as best we can discern it – for our time, for our church, in our cultural context – is how the Episcopal Church makes its witness, makes its mark, and matters."
PB&F should strive, Curry said, to craft a budget that "looks like the movement of Jesus through the Episcopal Church in our world."
Curry asked the committee to honor Scripture's promise that if a group of people puts Christ at its center, they will be able to discern God's call.
"Brothers and sister, if we do that, that will send a signal to this church that will have a ripple effect throughout the church and through the church to the world," he said.
Curry then invited PB&F members to "come, labor on," reciting the words of the hymnwritten by Jane Laurie Borthwick, to whom Jennings is related.
Crafting the budget
The Episcopal Church's three-year budgets are funded primarily by pledges from the church's 109 dioceses and three regional areas. Each year's annual giving in the three-year budget is based on a diocese's income two years earlier, minus $150,000. For the 2016-18 budget, dioceses were asked to give 18 percent in 2016, 16.5 percent in 2017 and 15 percent in 2018.
Diocesan commitments for 2016 and 2017 are here.
Not all dioceses pay the full asking for a variety of reasons. Fifty-six dioceses committed to paying the full asking of 16.5 percent or more in 2017. Another 22 have pledged between pledged between 12 percent and 15 percent.
At the 2015 meeting of General Convention, bishops and deputies made the current voluntary diocesan budgetary asking system mandatory, beginning with the 2019-21 budget cycle, effective Jan. 1, 2019. Without getting a waiver, a diocese that does not pay the full assessment will be unable to get grants or loans from the Domestic and Foreign Missionary Society.
(The Domestic and Foreign Missionary Society is the name under which The Episcopal Church is incorporated, conducts business, and carries out mission.)
Diocese of Maine Bishop Steve Lane preaches during Eucharist Oct. 22 before the General Convention's Joint Standing Committee on Program, Budget and Finance began a full day of learning about current working draft of the Episcopal Church's 2019-21 budget. Photo: Mary Frances Schjonberg/Episcopal News Service
Jennings said that council's Assessment Review Committee, which will handle waiver requests, and all those involved with the budget process have pledged to have "great compassion and empathy for those cases of hardship."
"But we also know that there's a spectrum of understanding of what hardship means," she added.
The current version of the 2019-21 budget is based on anticipated $128.7 million in revenue, including $86.7 million in mandatory assessments of 15 percent of dioceses' annual income. The diocesan assessments total also assumes .5 percent growth in dioceses' annual operating income.
However, the current draft anticipates that some dioceses will get full or partial waivers, up to a "maximum possible" $6.8 million, according to Lloyd. Thus, the likely diocesan contribution is pegged at $79.9 million. Each 1 percent in diocesan giving equals roughly $5.8 million, she said.
Jennings noted that the annual asking of dioceses stood at 21 percent five years ago. She said the projected revenue for 2019-21 is based in part on the assumption that dioceses that have been paying more than that will decrease their giving to 15 percent.
Have the dioceses that pay less than 15 percent "spent the last three years preparing to make this commitment to our common mission and life together?" Jennings asked. "Time will tell."
Lane said that when the then-voluntary asking was 21 percent, the average percentage of actual contributions was 12.3 percent. A multi-year conversation resulted in "broad agreement across the church that 15 percent is a reasonable target," he said. The pattern of diocesan giving over the 2016-18 triennium shows that many of the lesser-giving dioceses were moving closer to 15 percent, Lane pointed out.
"There's still a number of dioceses that aren't going to reach 15 percent but, many of them are working on it in good faith," he said.
Jennings said that for PB&F "to make solid assumptions about income in this budget, you have to decide if we trust one another to keep the commitments we made at the last General Convention."
PB&F Chair Barbara Miles said she hopes committee members "will think of this as a ministry and not just a job."
"Our task is to listen and to be kind. Don't try to argue with them. Just hear them. Then, we will try to do the work of budgeting here," she said.
As the meeting closed on Oct. 23, Miles and Lane asked the PB&F members to summarize their goals for the process.
Diocese of New Jersey Bishop William "Chip" Stokes noted that budget committees often get into the mundane" out of necessity.
"But I am committed to a budget grounded in Jesus Christ that does not accept a narrative of decline for the church, that is driven by our commitment to the mission and ministry of Jesus Christ, the mission and ministry of reconciliation that the world desperately needs," he said.
Members of the committee nodded their heads as he added, "I hope that every decision, everything we look at, is driven by that concern."
The General Convention's Joint Standing Committee on Program, Budget and Finance has 27 members, one bishop and two members of the House of Deputies, either lay or clerical, from each of the church's nine provinces. Photo: Mary Frances Schjonberg/ Episcopal News Service
Here are the next steps in the budget process
FFM will release its working draft budget to the church along with a narrative to explain its assumptions and construction in mid-November for comment. It likely will be posted on the General Convention Office's website.
FFM will revise the budget based on comments from council members, PB&F and the wider church, and have a final draft budget ready for council's consideration during its Jan. 22-24, 2018, meeting.
According to the joint rules of General Convention (II.10.c.ii), council must give its draft budget to PB&F no less than four months before the start of General Convention (essentially by February of convention year). PB&F will meet next from Feb. 5-7, 2018, to begin work on that draft budget.
Council's draft budget has typically been released to the church as well.
PB&F uses the draft budget and any legislation passed by or being considered by General Convention to create a final budget proposal. Convention legislative committees and PB&F will begin meeting in Austin, Texas, on July 3, 2018, ahead of the July 5-13 meeting of convention in the Texas capital city. There will be at least one open hearing, currently set for the evening of July 5.
PB&F's budget must be presented to a joint session of the houses of Bishops and Deputies no later than the third day before convention's scheduled adjournment. According to the draft convention schedule, that presentation is set to take place at 10:30 p.m. CDT on July 11.
The two houses then debate and vote on the budget separately. Both houses must approve the same version of the budget, which takes effect at the beginning of 2019.
Executive Council crafts annual budgets out of the spending plan that General Convention passes as the triennial budget. Typically, council adjusts each of the three annual budgets based on changing income and expenses.
– The Rev. Mary Frances Schjonberg is interim managing editor of the Episcopal News Service.


Full names required. Read our Comment Policy. General comments and suggestions about Episcopal News Service, as well as reports of commenting misconduct, can be e-mailed to news@episcopalchurch.org. Your email address will not be published. Required fields are marked *
Your email address will not be published. Required fields are marked *
Anglican News Service
October 26, 2017
This summer's wildfire season was the worst-ever recorded in British Columbia's history. Tens of thousands of people were evacuated from their homes, hundreds of buildings were destroyed, and much of the province's livestock was put at risk. As of 28 September, more than 100 wildfires were still burning across the province.
Much of the devastation impacted Anglicans residing within the Territory of the People. For some, the threat of the encroaching fires forced the evacuation of friends and neighbours, while others were made to flee and leave their own homes. At the height of the evacuations, many Anglican clergy and lay people provided assistance and pastoral care to evacuees.
"One way or another, every single parish in our territory was affected," said the Very Revd Ken Gray, currently serving as episcopal commissary during the sabbatical of Bishop Barbara Andrews.
Experience of evacuated parishes
In certain parishes, particularly 100 Mile House, Alexis Creek, and Williams Lake, residents were evacuated as the fire threatened buildings and parishioners' homes. Meanwhile, major centres such as Kamloops and Prince George took in large numbers of evacuees.
The Revds. Kris and Keith Dobyns – who share positions serving St Timothy's Anglican Church in 100 Mile House and St Peter's Anglican Church in Williams Lake, as well as St Luke's Anglican Church in Alexis Creek – were among those evacuated in July. Days after the fires began near their home in 100 Mile House, Kris received a warning from fire volunteers going door-to-door that she might have to leave.
"About 45 minutes before the evacuation, all of this black smoke started billowing in. . . I live downtown, and it looked pretty ominous," she recalled. "My neighbours were out and they all decided to leave. They had ash falling in their backyards."
Making the decision to evacuate, Dobyns packed and left a note with her name and phone number on her front door. She stayed with parishioners just outside the evacuation zone on a Sunday night before leaving early Monday morning. After meeting up with Keith, who had been away visiting their grandson in Ontario, they drove to stay with their son and his family in Abbotsford.
Two weeks later, officials re-opened 100 Mile for residents to return, and the couple returned home. But when fire threatened the surrounding areas of Elephant Hill and Canim Lake, Kris ended up leaving for Abbotsford for a few more days on the advice of Bishop Andrews.
"It was just so smoky and there had been more evacuations on both sides of us," Dobyns said. "Our bishop was visiting to provide pastoral care and all these other evacuations had happened, and she looked at me and said, 'You need a break.'"
During that time, members of the Canim Lake Band were themselves evacuated following a lightning strike and ended up in 100 Mile.
Partnering with the Stemete7uw'I Friendship Centre – which is located next to St Timothy's – to help care for evacuees, Anglicans joined band members for a potluck attended by Bishop Andrews, during which they brought food and other items such as clothing.
"We have a free store at our church that can be opened at any point," Dobyns said. "So we opened that up for people who needed clothing or blankets, because they had just had to leave in the middle of the night with no warning."
Providing care to evacuees
In larger urban centres where many of those evacuated ended up, Anglican clergy were on the frontlines of helping evacuees.
The Revd Isabel Healy-Morrow, regional dean for Kamloop-South Rivers, spent time at two areas set up by authorities to receive people evacuated from their homes in communities such as 100 Mile House, Clinton, Ashcroft, and Cache Creek. One was the Kamloops Powwow Grounds, where a cluster of tents and travel trailers had sprung up.
"I would go down and sit and visit with families, drink coffee with them, play with the children, and give them someone to vent their anxieties to," Healy-Morrow said. "Those in the ranching industry were consumed with anxiety about their livestock."
With a background in farming and ranching, Healy-Morrow was able to converse with fleeing ranchers about the evacuation of cattle and other livestock. Many horses were evacuated and taken to the Kamloops Exhibition Grounds and nearby farms.
For the evacuated people themselves, many had left quickly and been compelled to leave behind essentials such as prescriptions and clean clothing. At a second, indoor reception area, the Interior Community Savings Arena, hundreds of cots were set up, while provincial Emergency Social Services provided food, clothing, toiletries, and other benefits.
At the arena, Healy-Morrow encountered a group of First Nations elders from the coastal community of Bella Coola, who were unable to home after a Vancouver conference due to the Hanceville wildfire blocking the road from Williams Lake.
"There was no indication as to when it might be safe to travel," she recalled. "I was able to provide a pastoral presence, hug people, [and] hand out water and snacks and pamphlets showing the location of St Paul's Cathedral, where evacuees were welcome to drop in and rest, pray, or talk."
Healy-Morrow also visited evacuees who had been admitted to the emergency room at Royal Inland Hospital after experiencing cardiac and breathing issues, due to the cumulative effects of stress and poor air quality resulting from smoke, ash, and particulate matter – a particular health risk for those suffering from conditions such as asthma and chronic obstructive pulmonary disease.
"They were glad of a smile, a hug, someone to sit by their bed and talk, pray if requested, and bring them coffee and snacks," she said.
"The pastoral presence of the clergy was appreciated by the evacuees, and it was clear that a smile and a hug went a long way to those who were frantic with anxiety over the possible loss of their homes and assets."
Though the wildfires have subsided since their summer peak, residents in affected communities now find themselves dealing with the aftermath of the destruction.
Aftermath
Though the height of the summer wildfire season in British Columbia may have passed, the efforts of communities to rebuild in its wake remain ongoing.
Anglicans residing within the Territory of the People have been on the front lines of devastation caused by the fires. Driving out to St Luke's Anglican Church in the Chilcoten area, the Revd Kris Dobyns witnessed the scope of the damage first-hand.
"It was awful driving out there," Dobyns said. "You could just see the burned trees on both sides. . . You could see maybe a chimney and a fire place, and the whole house just burned to ashes.
"We saw a place where there were six or seven cars just completely burned out . . . just devastating. It's going to take years to recover."
All residents in the area were affected by the large amounts of smoke that billowed into the air over a protracted period. The poor air quality could reach dangerous levels for weeks at a time, putting at particular risk those with respiratory health issues.
Meanwhile, the effect on livestock threatened the livelihood of ranchers, with many of the 35,000 cattle in fire-affected regions remaining unaccounted for.
"A lot of our folks who are ranchers are of course devastated," episcopal commissary Ken Gray said.
"They've lost fencing, they've lost animals, they've lost grazing land, they've lost forest cover. . . In terms of the area the territory covers . . . the effect on ranchers and the effect on the forest industry is huge.
"That's going to affect local economies, and it's going to affect parish fiscal stability as well."
In Kamloops, where Gray serves as dean of St Paul's Anglican Cathedral, the city has experienced a significant increase in homelessness. Many have been displaced from their home communities, and Anglicans active in shelter ministry are expecting an increase in demand. Some workers have opted not to return, prompting a labour shortage in communities such as Williams Lake and Cache Creek.
The economic repercussions of the fires are prominent in the mind of the Revd Jim White, a retired Anglican priest and non-Indigenous pastoral elder who sometimes provides ministry to the First Nations community in Lytton, as well as at an ecumenical parish in Logan Lake.
"My biggest concern right now is the number of small businesses that are going to survive the next year," White said. He offered the example of Cache Creek Golf Course, which recently closed because not enough people could reach the golf course to provide the necessary revenue for it to stay in business.
"I am somewhat pessimistic that the businesses that are in existence today will be here a year from now," he added.
In response, local Anglicans are making a push for residents to "buy local" in order to support small businesses in the area.
Community solidarity
At the peak of the fire, residents worked together to help each other out wherever they could. During the month of July, White's son putting in 1,300 hours of volunteer hours as a volunteer firefighter along with his crew.
At another point, when the town of Ashcroft lost utilities, including electricity and phone service, his neighbour used a portable generator and extension cord to help people recharge their mobile phones.
"It's things you don't think of," White said.
In the wake of the fire, affected communities have worked together to rebuild and persevere. The decreasing level of wildfires since summer has in its own way helped restore a greater sense of normalcy for residents.
"Anxiety levels are significantly reduced," Gray said. "Air quality has significantly improved. Really, especially in the smaller communities, folks are getting back on their feet."
Nevertheless, the emotional toll has affected many residents and prompted the creation of mutual support groups. In Williams Lake and 100 Mile House, Dobyns and her husband Keith have attended meetings as part of the 2017 Wildfire Recovery Mental Health Working Group, with pastors' fellowships in both towns working to address mental health issues amidst the recovery.
Anglicans in other parts of the country have also come together in a variety of ways to provide aid for communities impacted by the wildfires. Gray said the Territory of the People has received donations totalling more than $35,000 [CAD, approximately £20,700 GBP] from individuals and organisations such as the Primate's World Relief and Development Fund, with the money being sent to clergy for use in their discretionary funds to help individuals resettle and rebuild.
A moving symbolic gesture came when Dobyns attended the recent provincial synod executive council as a delegate and saw more than 70 prayer shawls brought by a priest from Vancouver Island, whose parish had decided to make the shawls to help support the Territory of the People during the fires.
Taking six of the prayer shawls back to the cathedral, Dobyns distributed them at a joint annual worship service and potluck for the 100 Mile House and Williams Lake parishes. The shawls were received so enthusiastically that she planned to return and pick up more.
"People were so moved to receive those. . . It is so comforting to know that people have been praying for you, and to wrap yourself in what feels like a blanket of prayers," Dobyns said.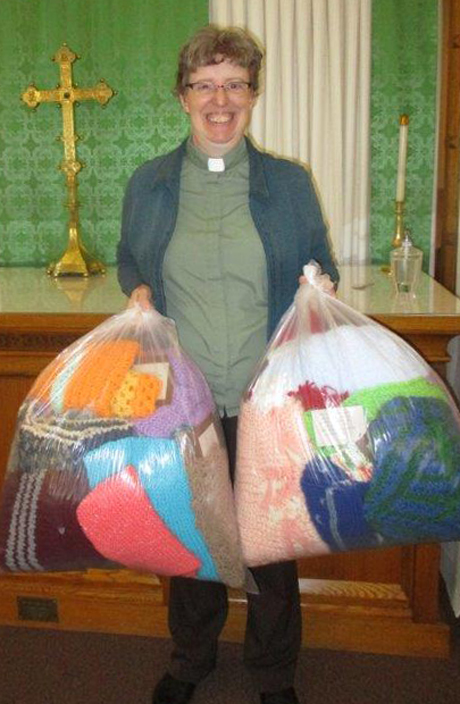 The Revd Clara Plamondon brings prayer shawls from the Diocese of British Columbia during a visit to St Paul's Anglican Cathedral in Kamloops.
Photo: Rae Long / Anglican Church of Canada
'New normal'
With the continued exacerbation of wildfire seasons due to climate change, British Columbia communities are pondering how they might minimise further wildfire damage in the years to come.
Later this autumn, St Paul's Cathedral in Kamloops will host a meeting of community leaders and care providers to examine lessons from this year's fires and how they might incorporate them moving forward.
"Something like this is going to be the new normal, and we're wondering what we can do now to ensure an effective and appropriate response next year," Gray said.
"Both in Prince George and Kamloops, I think the community response was extremely good," he added. "Folks mobilised very quickly and very effectively. But we're going to have to organise not just for this year, but . . . for the foreseeable future. I think that's worth noting."