Welcome to Christ Church!
Christ Church is a congregation of the Episcopal Diocese of East Tennessee, part of the Episcopal Church in the U.S.A.
We are a warm and open community, and we hope that you will be able to visit us in person.
Our mission is "To know Christ and to make Christ known." We come to know Christ in our worship, study, spiritual formation, and fellowship. We seek to make Christ known by active, Spirit-filled ministry in our church, community, and the world.
Our commitment to Christ is growing and bearing fruit in our lives. You are welcome to come and worship with us, and to see if you would like to join us in our mission.

God Bless You,
The Rev. Kim Hobby, Rector
Recent New
Episcopal News Service
December 04, 2017
Grace Episcopal Church in Riverhead, New York, had been a parish in decline for decades, according to its last priest-in-charge, the Rev. Mary Garde. Its deep roots on the East End of Long Island, dating to the mid-19th century, weren't enough to stem the gradual erosion in membership that led, early this year, to the church's closure.
Garde called it "the usual story when you have an aging congregation," but the church's closing also has paved the way for its rebirth as a center for the region's farm laborers, a big step forward in the ongoing support they have received from the Diocese of Long Island.
The diocese has long partnered with Rural & Migrant Ministry, a nonprofit agency that works around New York State to give voice to the concerns of farm laborers, many of them Latinos. The agency and the diocese now are working with other faith-based partners, including the Presbytery of Long Island, to develop the Center of Alliance, Solidarity and Accompaniment, or CASA, at Grace Episcopal Church.
The church already has become a regular meeting place for a "consejo," or council, of farm workers who are helping to develop plans for the diocesan property in Riverhead, which includes the church, a rectory and a parish hall. Leadership counseling, vocational training and English-as-a-second-language classes are among the possible future uses.
"There are so many possibilities," said the Rev. Gerardo Romo Garcia, who leads the diocese's Latino outreach on Long Island's East End. He emphasized that by reaching out to the community of laborers, church leaders hope to "empower the workers and teach them how to empower themselves."
Garde, who retired and moved to Kansas after Grace Episcopal closed, said she was pleased the church is being put to new use.
"It's a wonderful program, and I think it will do good things for the community," she said, and she was pleased that the church would be put to ministry use rather than sitting vacant or being sold.
Rural & Migrant Ministry, founded by the Diocese of New York in the early 1980s, is based in Poughkeepsie. In recent years, it has assigned a staff member to Long Island in office space provided by the Diocese of Long Island in its Garden City headquarters, and the addition of a mission center follows the model of two centers the agency already operates in Upstate New York.
"It became clear that it would be really beneficial to have a center at the end of Long Island that could be an education center for nurturing leaders," said the Rev. Richard Witt, Rural & Migrant Ministry's executive director and an Episcopal priest.
About a year ago, as the agency was looking for a location for a new center, it had become clear the congregation at Grace Episcopal was not sustainable, said Mary Beth Welsh, executive director of Episcopal Ministries of Long Island, which provides fundraising and ministry-building support to the diocese and its congregations. But the property still was "a great space for us to serve and engage the communities of the East End of the island."
While a school and day care continued to operate on the Grace Episcopal Church grounds, the diocese decided to turn the other church facilities into a ministry center, including for use by Rural & Migrant Ministry and the people it serves.
The focus on outreach to immigrant laborers on the East End is part of Long Island Bishop Lawrence Provenzano's effort to bring the church to a community that had been mostly overlooked by the diocese in the past.
"It's very clear that this is where our focus needs to be," Provenzano told Episcopal News Service. "This is our call to minister to this group of people who have been in our midst as an almost invisible population."
The Diocese of Long Island is anchored on the west by the densely populated New York City boroughs of Queens and Brooklyn, while to the east, the suburban counties of Nassau and Suffolk are nearly as populous and also home to 659 farms covering about 39,000 acres of farmland, according to a 2015 report by the Office of the State Comptroller. Suffolk, with Riverhead as its county seat, is the fourth largest county by population and ranks third in the state in overall agricultural sales.
Rural & Migrant Ministries was created to improve conditions for farm workers like those serving the agriculture industry in Suffolk County. They often work long hours without overtime or paid days off.
Last year, Rural & Migrant Ministries led a March for Farmworker Justice from Suffolk County to the state capital, Albany, to advocate for farm laborers' rights. Members of the newly formed CASA council hope their voices will be heard even louder now that they have a permanent gathering place in Riverhead.
"We were looking for a place where we could form a community, not based on religion, but a place where people's voices can be heard, where we can get educated, learn about our rights and responsibilities and to find our identities as rural workers living on the East End," Ananias Canel, a CASA member, told Riverhead Local.
Episcopal Ministries of Long Island is coordinating the partnership at the new center in Riverhead. The agency is serving as a leadership resource to the CASA members as they chart a path forward.
"The Diocese of Long Island has really thrown themselves into this," Witt said. The people his agency serves "are used to being told they don't belong somewhere, and so here's a place where not only are they told they belong but they're being invited to help run it."
That mission aligns with the Episcopal Church's outreach to people who live on the margins of society. Immigrants who work on the farms of Long Island often get overlooked, Episcopal Ministries' Welsh said.
"As a church, we should be standing with the folks who have been sort of pushed aside," she said.
Anglican News Service
December 04, 2017
Anglicans around the world are marking the 16-Days of Activism Against Gender-Based Violence in a simple social media campaign – that is based on paper! They are taking photos holding a poster with a simple pledge: "because we are precious in God's eyes, I will not keep silent on sexual & gender-based violence." The photos are being uploaded to Facebook and Twitter. They are being shared by a dedicated Twitter account: @AnglicansEndGBV.
"All Anglicans can get involved in the social media campaign," the Inter-Anglican Women's Network (IAWN) said. "Posting our 16 Days photos and pledges is just one way of letting the world know that we want to change the environments we live in where gender-based violence is still allowed to diminish and destroy people's lives, most often those of women and girls."
To take part, take a photo of yourself with a sign (which can be downloaded here) and post it on Facebook and Twitter or any other social media. On Twitter, users are encouraged to send them to to @AnglicansEndGBV and @SBSGender with the hashtag #16Days so that they can be re-tweeted.
If you do not have a social media account, you can email your photo to Chris Curry at the Anglican Communion Office who will post the photos on social media for you.
In addition to the Anglican Communion, the campaign is supported by the Church of Sweden, Finn Church Aid, Islamic Relief Worldwide, the Lutheran World Federation, Mission 21, Norwegian Church Aid, Side by Side, UNFPA and World Communion of Reformed Churches.
A selection of photos from the campaign:

Young people from the Church of Pakistan, Salvation Army and United Presbyterian Church.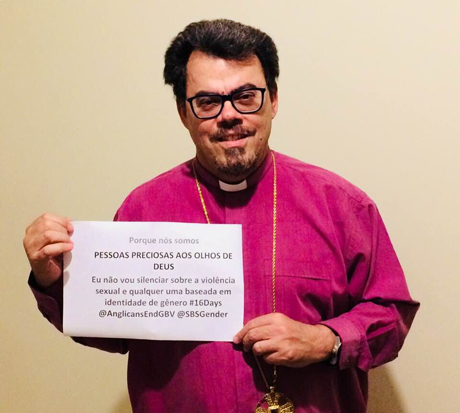 Archbishop Francisco De Assis Da Silva, Primate of the Igreja Episcopal Anglicana do Brasil (Anglican Church of Brazil).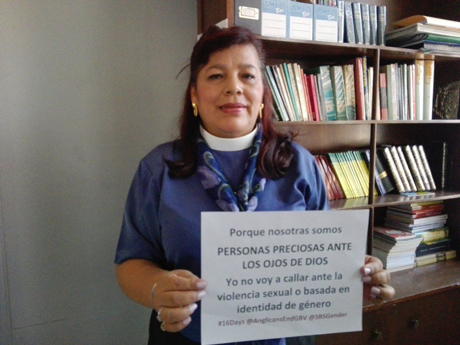 The Revd Rosa Irma Guerra Alvarado from the Anglican Church of El Salvador.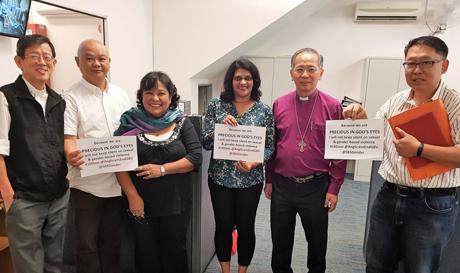 Archbishop Moon Hing and staff from the Diocese of West Malaysia office.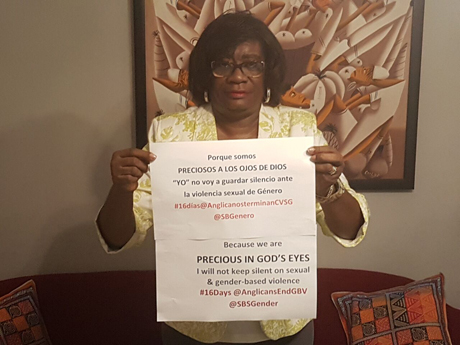 Dilsia Mariela Miller-Alleyne from the Iglesia Anglicana de la Region Central de America (Anglican Church of Central America).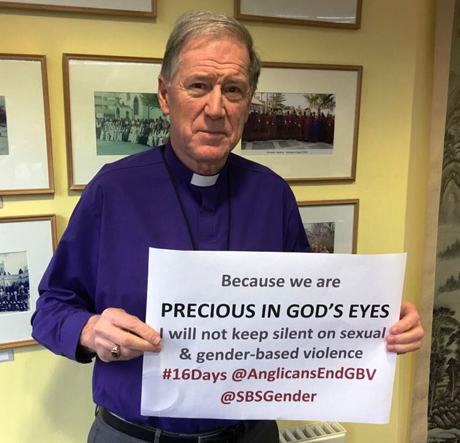 Archbishop Fred Hiltz, Primate of the Anglicna Church of Canada.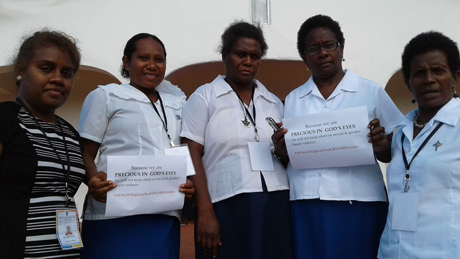 Tagolyn Kabekabe, the Anglican Alliance facilitator for the Pacific, with women from the Anglican Church of Melanesia.
Bishop Mauricio Andrade and supporters from the Diocese of Brasilia.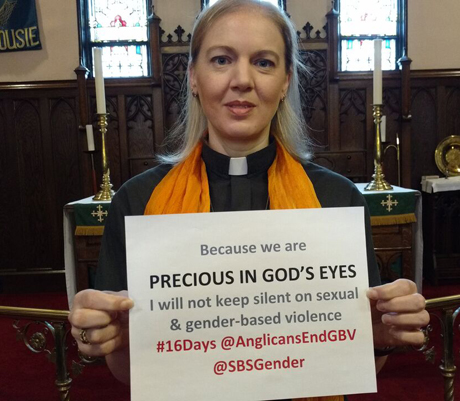 The Revd Laura Marie Piotrowicz from the Anglican Church of Canada.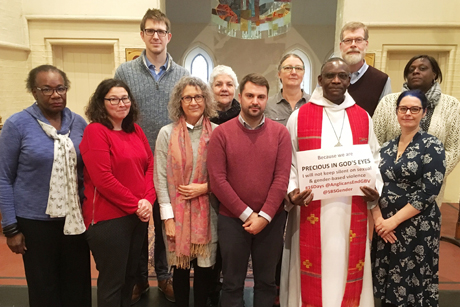 Staff from the Anglican Communion office in London with Secretary General Dr Josiah Idowu-Fearon.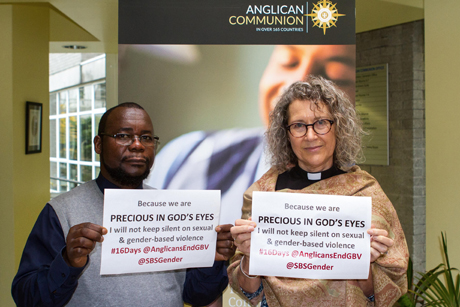 The Director for Mission at the Anglican Communion, the Revd Canon John Kafwanka, with the Anglican Communion's Director for Women in Church And Society, Terrie Robinson.